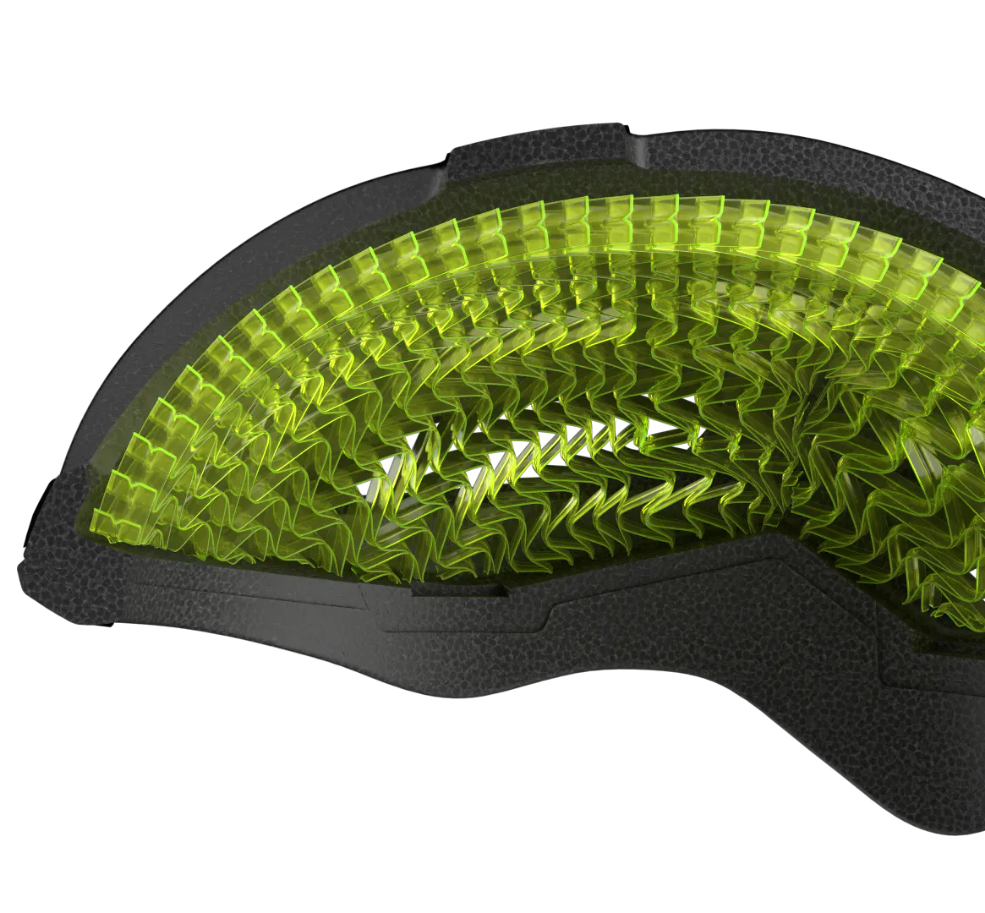 SAFER
Development of WaveCel technology has been supported by the US government (National Institute of Health) to help prevent head injury from impacts and falls.
First released in bicycle and snow sport helmets, WaveCel received TIME Magazine's "The Best Inventions of 2020" award. WaveCel can absorb up to 73% more rotational force and has an up to 98% lower predicted risk of concussion than a standard helmet lining.*
LOWER
The low profile of WaveCel hard hats results in less head "bumping" and "clipping" when working in tight spaces. Their dome is about 1" or 20% lower than that of standard hard hats since WaveCel eliminates the need for a tall air space that traditional hard hats require to absorb impacts.
LIGHTER
Due to their lower dome, WaveCel hard hats are lighter and feel more stable for all-day comfort. Weight is further reduced by a variable-thickness shell design, optimized to balance strength and weight.
COOLER
Unlike insulating impact foams, WaveCel is 93% porous, allowing air to circulate freely through 93% of the WaveCel dome. WaveCel hard hats are available non-vented (T2+ PRO) and vented with top and rear vents (T2+ MAX) that provide a maximal venting area of 16 cm2.
FEATURES
WaveCel Technology:

 

unprecedented head protection from impacts and falls.
Type II Rated:

 

protection from crown, front, side, and back impacts.
Fully Assembled:

 

ready to go.
Fit System:

 

with oversized dial and vertical height adjustment.
Accessory Rails:

 

secure fixation of WaveCel accessories.
Standard Accessory Slots:

 

for earmuffs and standard accessories.
Optional Chin Strap:

 

4-point chin strap with magnetic FIDLOCK® buckle.
Made in the USA:

 

designed, manufactured, and assembled in Oregon.
Color:

 

white, black, blue. High-visibility colors: yellow, orange.
Customization:

 

your logo and custom colors upon request.
---
Size:

 

One size fits most. Head circumference 53-63 cm. Sizes 6 5/8 – 7 7/8
Standard:

 

ANSI Z89.1-2014, Type 2: protection against top, front, rear, and side impacts
Electrical:

Class E: electrical insulation up to 20 kV (non-vented PRO)
Class C: not rated for electrical protection (vented MAX)


Technology:

 

WaveCel impact mitigation system
Temperature Range:

 

-30°C to +50°C
Lifetime*:

 

5-year recommended lifetime (*Hard hat lifespan may vary depending on the conditions of each work site. Hard hats subjected to more wear and tear or used outdoors in direct sunlight may need to be replaced more frequently.)
Warranty:

 

3-year warranty
Materials: 

ABS (shell)
Nylon (headband)
Co-Polymer (WaveCel Core)
Polypropylene (Rail)

Manufacture:

 

Made in the USA