ANSI Z359.14-2021 - New Retractable Device Standards
What are the high-level changes that ANSI Z359.14-2021 addresses?
On June 17, 2021, ANSI approved the new 2021 revision of Z359.14, Safety Requirements for Self-Retracting Devices (SRDs) for Personal Fall Arrest and Rescue Systems. This revision supersedes the 2014 version and goes into effect on February 1, 2023, which is an important date for ANSI compliance while using self-retracting devices. We will review the changes to the Z359.14 standard and cover the compliance timeline and what that means for the fall protection safety SRD equipment you are using today.
At a high level, the 2021 changes to the ANSI Z359.14 standard are designed to:
Simplify types and classes of SRDs so end users can quickly identify a compliant product's capabilities.
Increase factors of safety on multiple components and tests.
Introduce a new testing regime for personal SRDs or SRL-P's (those worn on the back, connected to the full body harness), including specific tests to address product issues that led to a manufacturer recall.
Further standardize labels and markings to make clear an ANSI compliant product's capabilities.
What are today's ANSI Z359.14-2014 SRD types and classes?
In the previous 2014 revision of Z359.14, SRDs were organized by type (SRL, SRL-R for devices with rescue/retrieval functions, or SRL-LE for leading edge capability) and class (Class A or Class B). The intent was to organize SRDs by features in "Type" and then by their overhead performance capability by "Class." 
What will be the new ANSI Z359.14-2021 SRD types and classes?
Both types and classes were overhauled in 2021: "types" are SRL, SRL-P for personal devices meant to be installed on the user's full body harness, or SRL-R for devices with rescue/retrieval functions, and "classes" are Class 1 or Class 2. The SRD class is now applied to the acceptable anchorage locations. Class 1 devices are suitable for at or above dorsal D-ring anchorage locations. Class 2 devices are suitable for above, at, or up to 5 feet below the dorsal D-ring anchorage locations AND must be leading edge rated. So, if your jobsite has edge exposures and you need a leading edge SRL or SRL-LE, you will be looking for a Class 2 device in compliance with ANSI/ASSP Z359.14-2021!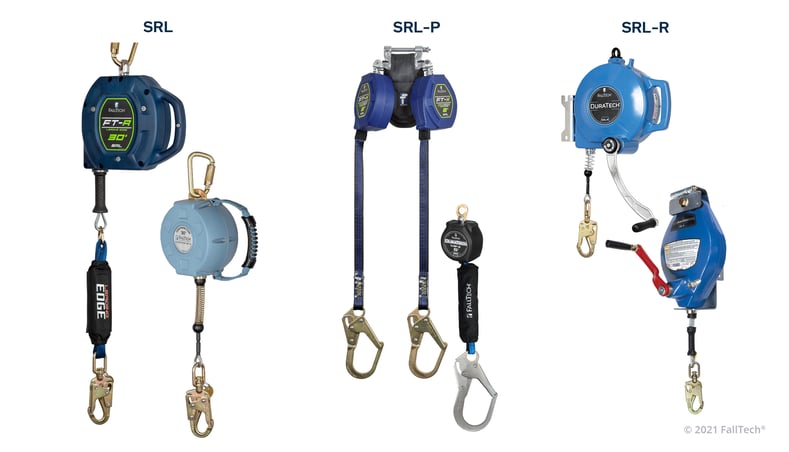 What are the new ANSI Z359.14-2021 standardized SRD overhead performance criteria?
With the type and class changes, Z359.14-2021 also introduced standard overhead performance criteria for all SRDs and standardized class labeling. Now, a worker will be able to quickly identify the suitable device for the hazards faced in their work zone.  
In the 2012 and 2014 revisions of Z359.14, overhead performance criteria were defined by SRD class: Class A or Class B. In 2021, overhead performance will be standardized across all SRDs. The performance requirements are summarized in the table below:
What is the new ANSI Z359.14-2021 standardized labeling requirements?
All ANSI/ASSP Z359.14-2021 compliant SRDs will have one of the markings below consistent with its class: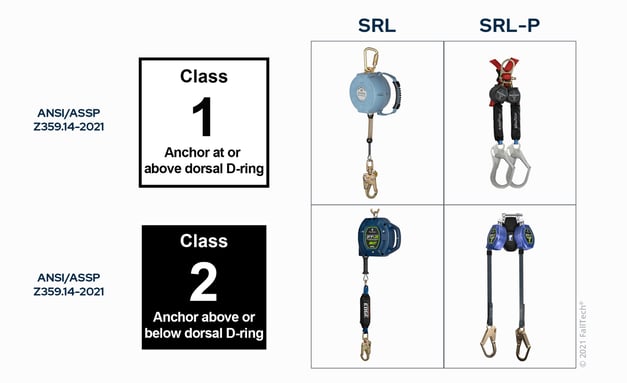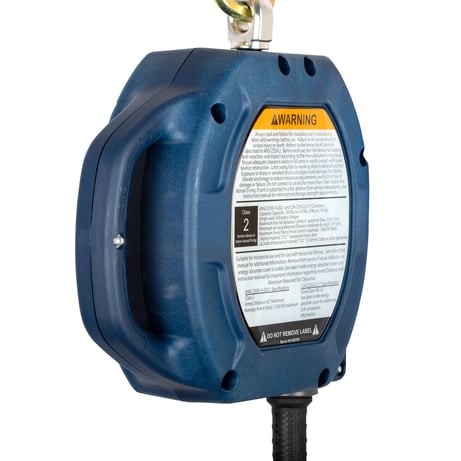 In addition to the Class 1 and Class 2 standard labels, all Class 2 SRLs must include a full fall clearance table or diagram as part of the physical product and the user instruction manual. This provides critical clearance information directly on the product, where it is most easily accessible by the end user or Competent Person at the place and time of use.
How will the testing of SRD's change with the new ANSI Z359.14-2021 requirements?
The 2021 version of Z359.14 significantly expands the volume and severity of testing required to comply with the standard. Most of these changes are intended to improve safety factors and address specific known hazards or applications of SRDs. While testing the products mainly affects manufacturers and test labs, it's essential to understand how these changes may impact how these devices are deployed and used in the field by end users. Some of the significant changes include:
When tested in overhead anchorage applications, performance criteria have changed for all compliant SRDs.
Requirements for hot, cold, and wet conditioned testing are the same, but the number of tests is increased.
The test mass for all dynamic drop tests has increased to 310 lbs. from the previous 282 lbs.

 

The test mass is now equal to the ANSI maximum allowable fully loaded user capacity, including clothes, tools, and gear.
Static strength testing load was increased to 3,600 lbs. from 3,000 lbs.

 

All compliant SRDs will now have a 2:1 safety factor.
A new static test to ensure the locking mechanism on SRDs that do not use an internal brake can withstand a minimum load of 1,800 lbs.
New dynamic test to ensure that SRDs with an internal brake has sufficient reserve lifeline in the event of a fall when the SRD's line constituent is fully paid out or deployed.
SRL-P's have several new, specific tests:

6-foot free fall dynamic performance test.
Twin or dual-leg devices will be dynamically tested with both leg-end connectors attached to ensure proper deployment of energy absorbers and provide warning if arrest forces may exceed 1,800 lbs.
Tie-back or Wrap-back SRL-Ps have additional static testing to validate the strength of the tie-back section when secured around an anchorage
Custom connectors for SRL-Ps have additional testing requirements
Finally, the ANSI Z359.14-2021 standard has introduced more static testing, more dynamic testing, more application-specific testing, more application-relevant testing, and increased safety factors to improve the quality of SRDs in the fall protection market to save lives.
What is the compliance timeline for existing SRDs in use?
ANSI/ASSP Z359.14-2021 goes into effect on February 1, 2023. For organizations or job sites that mandate ANSI compliance, all SRDs must be manufactured and marked as compliant with Z359.14-2021. Any SRDs marked as compliant with Z359.14-2014 or any previous revision will be considered out of compliance after February 1, 2023. FallTech recommends reaching out to your manufacturer to inquire how this standard change affects SRDs that you are using now and plan your transition to 2021 compliant devices.
When will FallTech begin offering ANSI Z359.14-2021 compliant SRDs to the market?
FallTech is in the process of qualifying its existing SRD models to the 2021 standard and will release updates as quickly as possible to best support customers as they transition to updated devices. This work is scheduled to be completed ahead of the February 1, 2023 deadline. FallTech has also already released the new FT-R SRL series, FT-X Cable series, and FT-X EdgeCore, all compliant with the 2021 standard.
How will FallTech manage the recertification of current 2014 Class A/Class B devices? Can I have existing FallTech SRDs relabeled or updated to the new 2021 standard?
Once a Falltech SRD model is qualified to the 2021 standard, FallTech will implement updates to our repair program to certify units of that model to the 2021 compliant specs. Any 2014 compliant product qualified for 2021 can be updated through the repair process. This recertification will require new labels and, depending on the model, may require some changes to parts or the assembly process to comply with the 2021 standard.
If I buy a FallTech Class A/B SRD device now, how long will you support the repair, service, and maintenance schedule once the new 2021 ANSI standard goes into effect?
FallTech will continue to support repair, service, and maintenance on all SRL models currently supported with these programs. Models that are qualified for 2021 will be repaired to the 2021 spec, even if they were built to a spec-compliant with a previous standard revision. Any model that doesn't comply with the 2021 standard will be built to the same original 2014 spec.
I currently use a non-Leading Edge rated personal device in a below D-ring application. Will this still be allowed after February 1, 2023?
This question has a two-part answer that depends on the ANSI compliance requirements of your organization or worksite. If strict ANSI compliance is required, then after February 1, 2023, only a Class 2 SRL-P will be appropriate for this application. If only OSHA compliance is mandated, then the existing device may continue to be used as approved by your Competent Person, Qualified Person, and/or Professional Engineer.
You should use a five-foot set-back distance versus an anchorage at the leading edge because it equips your fall protection system to arrest the fall more quickly. If your anchorage is at the edge, the SRL will create additional freefall distance as it retracts. The pawl mechanism also needs the lifeline to pay out fast enough to engage. With a zero-foot set-back distance and below D-ring foot-level tie-off, it won't activate until the worker has fallen below the device hanging beneath the leading edge, further delaying the arrest.
With a five-foot set-back distance, this payout begins as soon as the user's D-ring passes below the level of the anchorage. You can eliminate the extra freefall length, lower the MRFC, and create a safer working environment.
*This article was written by our partners at FallTech